How the Steelers can help their turnover margin
The Steelers are the only "elite" team that has a negative turnover differential. The focus for the team has been to create more on the defensive side.
As far as takeaways are concerned, the Steelers have 12 in 11 games. All I hear is that they "come in bunches" and the Steelers just need to force a few more to even things out.
Sounds good, right? Wrong. That's pie in the sky crap. Rivers, Brady, and Brees are on the schedule. I don't see them taking the ball away from those guys.
What's more is that the Steelers won't just start doing something well that they haven't done well in a couple of years. Last year, they were 15th in the league with 22 forced turnovers. Average. In 2016, they were 14th with 23 forced turnovers.
Those two years are better than this year, but only marginally so. The scheme isn't one where the defensive backs are going to take many chances.
Artie Burns is the one guy who's willing to gamble, and that willingness has cost him his starting job. The last time the Steelers forced 30 or more turnovers, Brice McCain and Antwon Blake were getting a bunch of snaps at corner. They were willing to take chances, but the Steelers also gave up a bunch of huge plays.
The Steelers don't play that way anymore.
Gone are Troy Polamalu and James Harrison who had a knack for taking the football. Some guys have it, some don't. T.J. Watt twice forced fumbles against Jacksonville. Maybe he's starting to get the hang of it, but other than him, I'm not seeing that playmaker on the Steelers roster.
Sean Davis has been very good, but he's not a ball hawk. He dropped an interception against the Jags, and dropped a game winner last year against the Patriots. Joe Haden can make plays on the football, but again, coaches don't want anybody taking chances.
It's easy to say, "we need to take it away more" and "they come in bunches" but when you don't have the scheme or the personnel, that makes it really damn tough to pull a 180 in the middle of the season.
The bigger problem to me is that they've given the ball to the other team the 7th most times in the league. That's behind only the Jaguars, 49ers, Bucs, Jets, Cardinals, and Bills. A list littered with the absolute worst teams in football.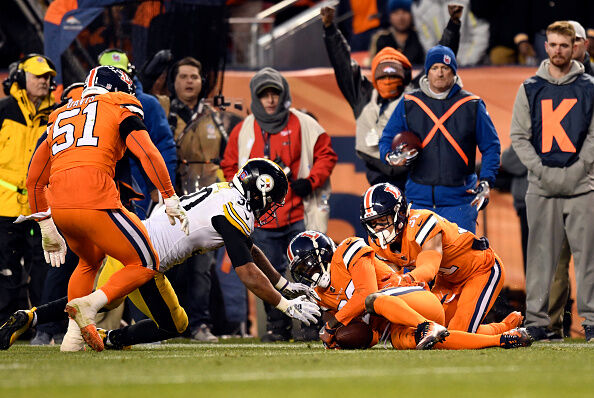 If they aren't going to create more turnovers…and they aren't, then the solution has to be to stop throwing it to the other guys. Ben's done that 12 times. The Steelers have forced 12 turnovers.
Is that something that will stop, though? Not likely, as Ben has been fairly turnover prone in his career and said yesterday on his radio show that he's going to keep taking chances. Here's how they can curb it though.
In the 5 games of the Steelers winning streak outside of the Jacksonville debacle, Ben threw no more than 1 interception in a given game, and only two in 5 games.
Why? The Steelers rushed for 100 yards in each of the 5 games.
I said it earlier this year: When the Steelers run, they hold teams to less points per game on defense. The offense also turns it over less. James Conner rushed for 100 in 4 straight games, and Ben turned it over just twice in that span.
He averaged 36 attempts per game through the air. The last two games where he threw 5 interceptions? He's averaging 51.5 attempts.
This ain't that hard to figure out where I'm sitting. If you average more throws, you're going to throw more interceptions.
The Steelers are second in the league in percentage of times they drop back to pass. 67 percent.
It's 2018, so you're not going to see them get close to 50/50. That's not who they are, nor should they be with JuJu and AB and the offensive line pass blocking as well as they can. However, Randy Fichtner and company should bring the percentage down a bit. Run the ball and protect the ball.
The Steelers aren't going to force more turnovers. It's not in their DNA.
The Steelers can cut down on some of their own, though. By running the ball just a little bit more.

Adam Crowley
Want to know more about Adam Crowley? Get their official bio, social pages & articles on WBGG-AM!
Read more